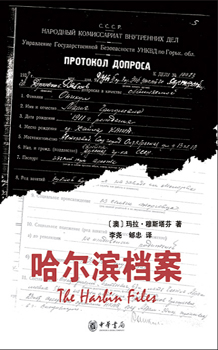 Harbin Dang'an

(The Harbin Files), translated by Li Yao, was published in October 2008 by the Zhonghua Book Company, bringing the story of Mara's family home to China.
Li Yao, a highly accomplished translator of Australian literature, recently received an Australia China Council award for his work



PRAISE



'We should not turn our faces away from reality and history.'
– Wang Meng, author and former Vice-President of the Chinese Writers Association and Minister of Culture of the Peoples' Republic of China 1986-89
'I am very pleased to recommend Mara Moustafine's superb book, Secrets and Spies, to readers in China. In tracing her family's complex history across China, Russia and Australia … she brings to life the unique culture of Harbin's early years, while also reminding us that the tumultuous historical events of the twentieth century were truly global in their impact and ramifications. Secrets and Spies was warmly received upon its release in Australia, where readers were often surprised to discover a way of life of which they were not aware. I am glad that readers in China will now also have the opportunity to explore this little known but fascinating aspect of China's history.'
– Dr Geoff Raby, Australian Ambassador to China, 2008
'… At a time when China is again stepping on to the world stage, the author reminds us of the multicultural heritage of Harbin, where her grandparents made their home. She brings alive the vanished world of the Harbin Russian community, but also looks to the future in the links she has established with Harbin people seeking to preserve their heritage. For Chinese readers, there is special interest in the revelations about the fate of the author's relatives, idealistic young people who returned to the Soviet Union to help build socialism but found their ideals and lives destroyed by Stalin's terror.'
– Alan Thomas, former Australian Ambassador to China (2003-07) (currently Ambassador to the European Union)
NEWS!
Read now in English:
– how the translation came about – preface to the Chinese Edition. Download The Harbin Files Preface – Chinese Edition.
– the continuing story – the postscript to the Chinese edition. Download The Harbin Files Postscript – Chinese Edition.
ARTICLES AND REVIEWS
China Publishing Today, 30 March 2009
http://www.cptoday.com.cn/News/2009-03-30/1445.html