Events
Friday 21 May 2010


4.00 -5.00 pm Lydia Cacho Speaks to Mara Moustafine
Wharf 1, Sydney Theatre Company, Pier 4/5, Hickson Road, Walsh Bay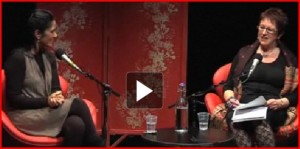 WATCH Mara's interview with Mexican journalist LYDIA CACHO
Sunday 26 July – Monday 27 July 2009
University of Melbourne's School of Historical Studies presents
Diaspora, migration and Jewish memories of China

Sunday 26 july 1.30 – 5.00 pm
Jewish Museum of Australia, 26 Alma Rd, St Kilda

Monday 27 july 9.00 am – 5.00 pm
Jessie Webb Library, John Medley East Tower
University of Melbourne

Thursday 18 June 2009


Diversity Conference, Riga, Latvia
2.25 pm Russians from China: Migrations and Identity
Wednesday 29 April 2009
Migration and Cultural Diversity Seminar Series 2009
4.00 pm Living on the Outside: cultural diversity and the transformation of public space
joint presentation with Professor Andrew Jakubowicz
Cosmopolitan Civil Societies Research Centre
University of Technology Sydney
In March 2009 Mara visits Hong Kong and China to participate in international literary festivals and promote her books.
Mara's trip is assisted by the Australian Government through the Australia Council for the Arts, its arts funding and advisory body and the Copyright Agency Limited.
Monday 9 March 2009

1.00 pm The Harbin Files: Secrets and Spies – book talk
The Fringe Theatre
7.30 pm An Examined Life – in conversation with Alexandra Harney
The Fringe Theatre
Wednesday 11 March 2009

International Literary Festival SUZHOU
6.00-7.30pm Secrets and Spies: reading and discussion
Sunday 15 March 2009


11.00am The Harbin Files – the Russians of China – introduced by Tess Johnston
The Glamour Bar, M on the Bund – LISTEN TO PODCAST
Monday 16 – Friday 20 March 2009
Mara participates in 2009 Australian Writers' Week in China, along with Henry Reynolds, Kate Grenville, Lucinda Holdforth and Jane Godwin.
Monday 16th March

International Literary Festival BEIJING
12.30–2.00pm Secrets & Spies – in conversation with Adam Williams
Thursday 19th March
Harrow International School BEIJING
3.20–4.20 pm 'Secrets, spies and family tales'
Friday 20th March

International Literary Festival CHENGDU
7:30-9.00pm True Histories? – together with Kate Grenville
Saturday 21st March
Media Briefing, with translator Li Yao BEIJING
3.30pm Zhonghua Book Company, Beijing
Sunday 22nd March
Book signing, with translator Li Yao HARBIN
2.30pm Zhongyang Book Store, 118 Zhnogyang Street
Tuesday 24th March
Talk at the Sunshine Forum HARBIN
with translator Li Yao
6.00-8.00pm Heilongjiang University
1-Tuesday 31st March
Talk to Explore Shanghai Heritage group
6.00-7.30pm H Cafe 1415 Huashan Road, Shanghai